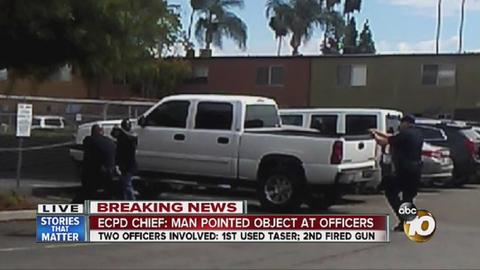 An unarmed black man fatally shot by police on Tuesday in El Cajon, California, after the of the victim allegedly pointed a vaping device towards the officers, according to a police statement issued Wednesday night. The officers apparently mistook the silver, cylindrical device for a loaded gun. Feeling that they were under attack, the police shot and killed Mr. Alfred Okwera Olango.
The San Diego County Medical Examiner's Office says the victim was 38 years old, which contradicts the police department's earlier claim that the man was 30. Olango was shot and killed in El Cajon, a suburb of San Diego, after police received a report of a man walking in traffic and behaving erratically.
"The vape has an all silver cylinder (Smok TFV4 MINI) that is approximately 1-inch diameter and 3-inch long that was pointed toward the officer. The box of the vape that was held in his grip, is 4 inches by 2 1/4 inches by 1 inch (Pioneer for You Vape)."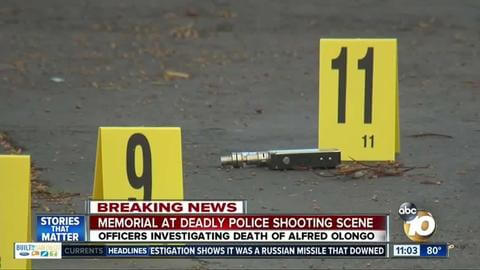 According to the LA Times, the victim's sister was captured on eyewitness video immediately after the shooting weeping and screaming at officers, claiming that she had warned the authorities that her brother was mentally challenged. She had allegedly called the El Cajon police three times that day requesting assistance in subduing her mentally challenged brother.
"They shouldn't have called police. They should have called crisis communications," the woman is heard saying with head in her hands as the ambulance carrying her brother has already driving away. "They just killed him," she said, weeping.
The crisis communications team that the sister is referring to is officially known as the Psychiatric Emergency Response Team, which often accompanies officers on police calls involving those suffering from reported mental challenges. But on Tuesday evening, the team was responding to a different call and was not available to assist in the Olango confrontation.
"There have been several questions about the Psychiatric Emergency Response Team (PERT). The El Cajon Police Department does have an agreement with Community Research Foundation/PERT which allows certified licensed clinicians to partner with police officers in the field in order to provide direct support for mental health calls. …During the hours of this incident, there was a PERT clinician with a police officer. At the specific time of this incident, that team was on a different radio call that was also PERT related. They were not immediately available."
At least one eyewitness has recorded the incident via smartphone and has stepped forward to offer the video to El Cajon police. According to some reports, nearby witnesses were ordered by police officers on the scene to hand over all cell phones immediately as evidence. The El Cajon Police Department is denying these accusations. The San Diego district attorney's office has opened an immediate investigation into the shooting.